Each and everytime someone leaving the company, it is always heartaching but to me, it is always a pleasure. Why? Time for some good food to send that someone off. Why should we be heartache anyway? Our friends are leaving for a better place, better offer, better salary, etc...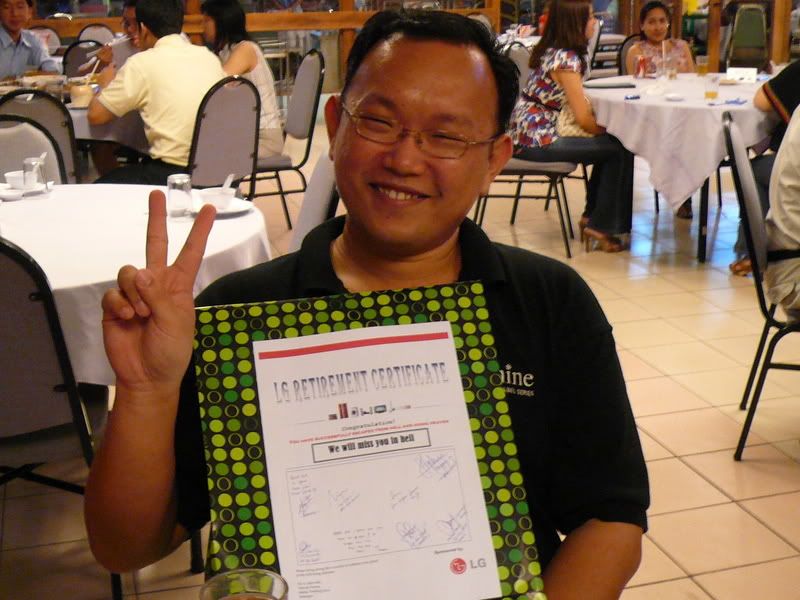 We are bidding farewell to

Ho

, LG Mobile merchandiser and a farewell dinner was planned by Joanne @

Pantai Seafood, Kg Kayu Ara

. I think many readers here wouldn't be bother who the hell Ho is but here I am to share all the good findings in our local delicacies. I believe many of you from Klang Valley have visited this restaurant.
When first stepped in, you will see exotic sea creatures for eg:

Alaskan King Crab

,

Snow Crab

,

Japanese Snail

, etc. And of course there is a price to pay to enjoy such delicacies. I had been to this restaurant a few times and this is the 1st time I am blogging about it.
Our very first dishes for the evening, sweet

Kam Heong Ostrich Meat

perfectly cooked with onions & dry chillies. Meat is juicy and tender. A very good substituition to our normal chicken or pork dishes.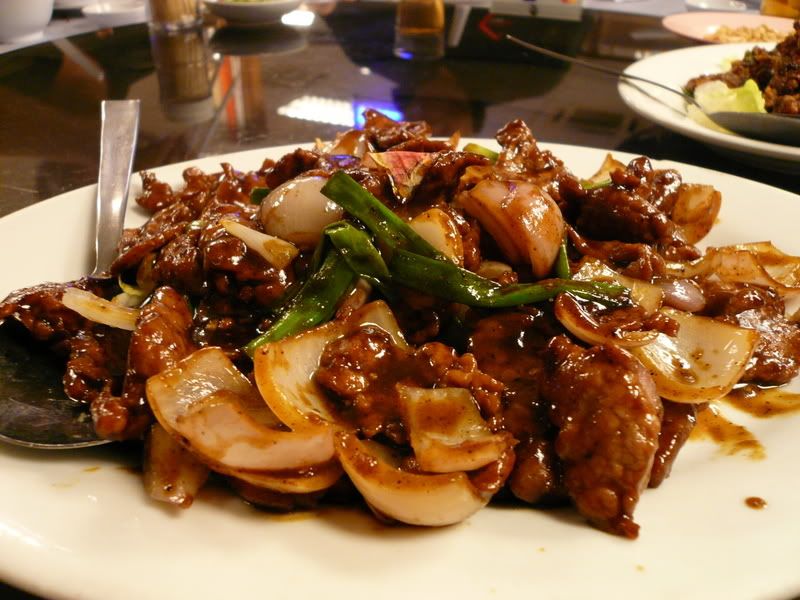 This is one dish I highly recommend to you all,

Salted Egg Calamari

, ever imagine having the taste of salted egg blended so well together with the deep fried squid. I just cannot get enough of this, though it is making my cough even worst today.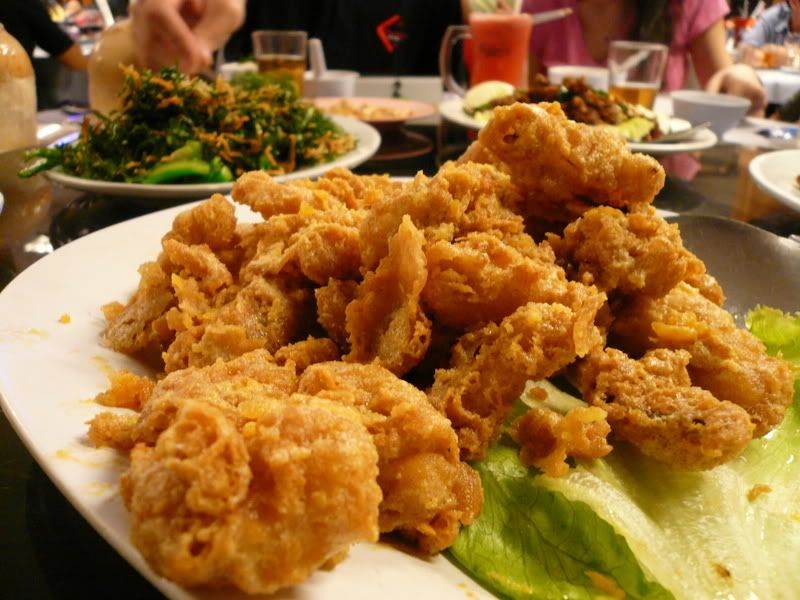 Normally in Chinese way of ordering dishes, always there must be accompanied with veges. So here we ended with

Kailan

being cooked in

2 ways

, partly deep fried, partly oil fried with bits & chunks anchovies.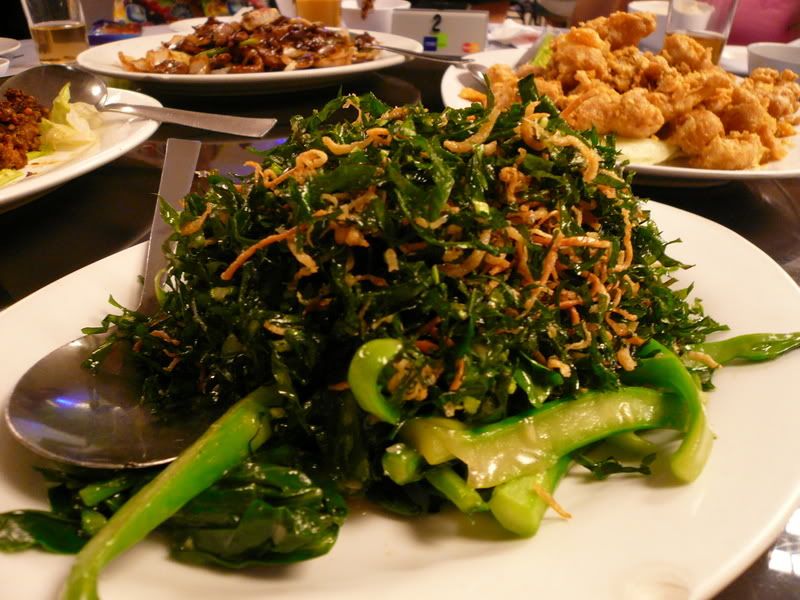 Overall, Joanne been good at ordering the dishes for the evening but this is one I do not really fancy is this fish dish. Not too bad but

SzeChuan steam

always good with Ikan Bawal not this Ikan Merah.
As we were not having enough that night, I ordered this in-house famous

Pork Knuckle

. Not too badly done but cannot be compared with the one I tried in the German restaurant @ Plaza Mont Kiara. This surely blends well with some beer. Nice finger food!!!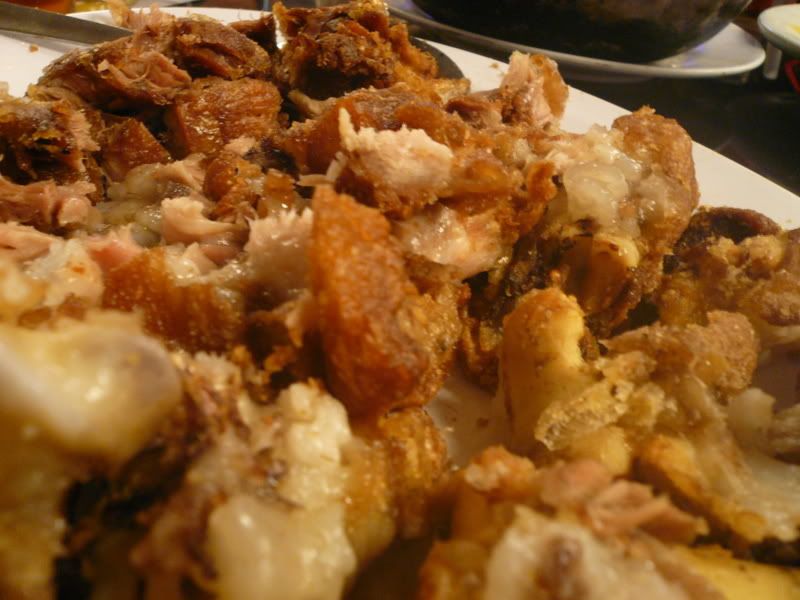 Ok, here come the nastiest dishes of the night. Reason being myself and Li Chin, both of us are allergy to crabs, ya I know, I know, I missing the best dishes of the night but it is the phobia that built up in me since I am small. Nevertheless it is good to see my colleagues all enjoying it while I took the picture down here.
We ordered 4 pieces of crabs altogether but cooked in 2 various style. First came in the

butter cooked

followed by the

Sweet & Sour

.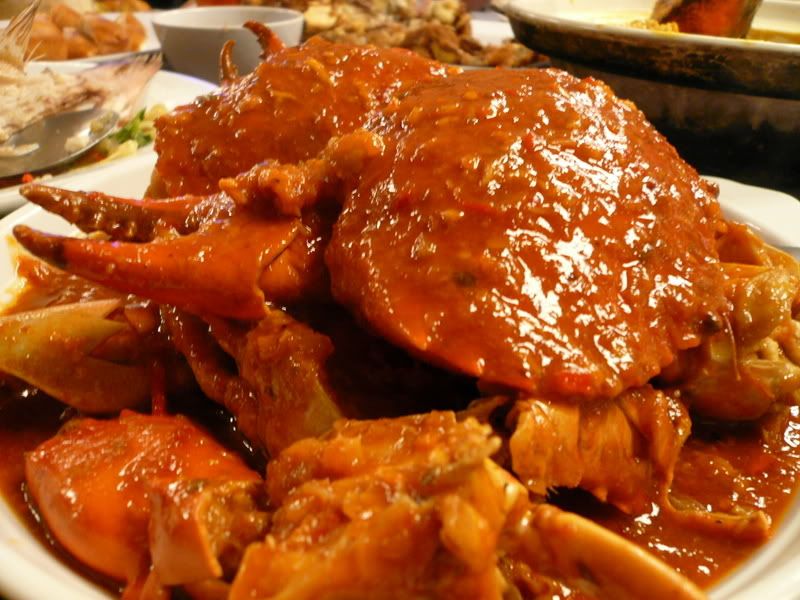 And guys, you know who enjoyed the most that night on these nasty creatures? Check out the picture ya... hehehe ;)
Good crabs with good sauces can never be complete with

Muntou

bread. There is an option between fried or steam Muntou. We ended up with the fried one.
Although I can't enjoy the crabs, but the Muntou itself was pretty satisfying, the sauce was good and with the food I am enjoying last night, it is not in any way helping my recovering from my sickness, coughing on and off while drafting this posting.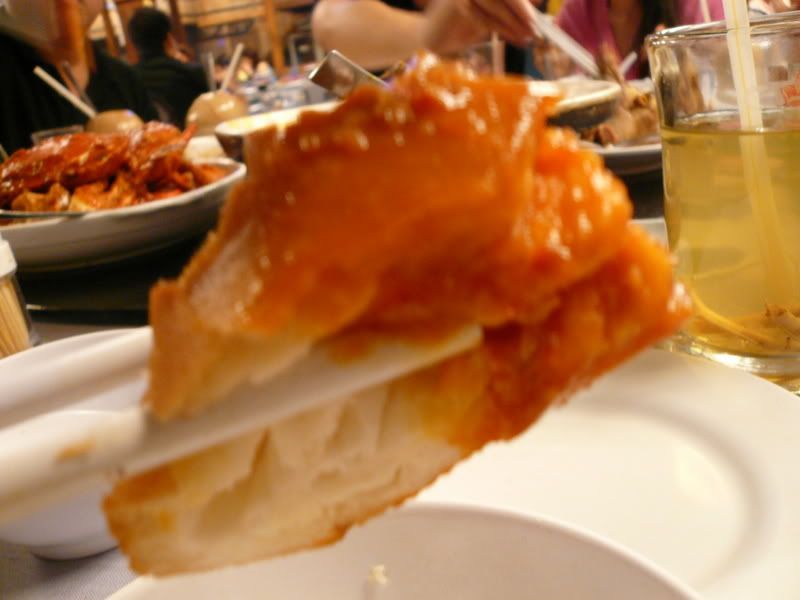 Only 8 of us last night to enjoy all this good dishes, and the damage was less than RM350. Pretty reasonable priced I would say, highly recommended for seafood lovers out there. The restaurant itself is situated in a pretty secluded area in Kg Kayu Ara, but I wouldn't mind if you guys wanna tag me along for dinner @ this place ya. ENJOY!!!