So here is my posting about my 4days/3nights trip to

Chiangmai, Thailand

. In fact, this is my

5th

times to Thailand & I had been nicknamed by my male compatriots as

"The Siam King"

. And when I met up with one of my best female friends, her immediate response was like "So, you got

KIEW KAI

there or not?". Thailand no doubt famous for its flesh trade, but nevertheless it is one of the exotic country in South East Asia that is worth a visit. Come on guys, do I look like I am a

Chicken Worm

?

This is my first time to the city of Chiangmai, northern Thailand. Weather wise it is as humid as Malaysia this time around, city wise as usual surrounding scenes are very much like Hatyai or Bangkok. Roads are filled with Tut-tuts, Toyotas & Hondas as usual. Checked into

Duang Tawan Hotel

located in the heart of Chiangmai city and no wonder why

SEX

is always the top of mind of everyone when Thailand is concern because I am greeted with this in my room.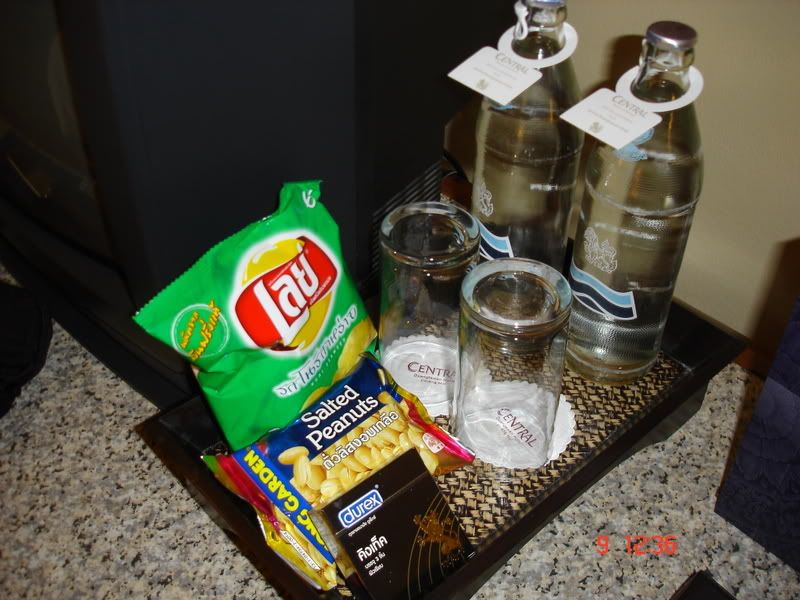 A box of

caps

nicely placed on my minibar item tray and I strongly believe this flavor is not available in Malaysia with a lion logo embedded on the box. It costs only

45baht

though. Cheap cheap...
Went for some authentic Thai-Chinese combi lunch. After lunch, proceeded for a tour to

Doi Suthep

, it is very much like Malaysia Batu Caves but difference is that this is a Buddhist temple while Malaysia's is of Hindus. I was made to sweat to conquer the

400 steps

up to this temple, but upon reaching the top, it is indeed satisfying and worth the climbing as it is one of the holiest place in Thailand, the view & panorama are simply magnificent. I made a donation of 100baht and was given joss sticks with lily for prayer.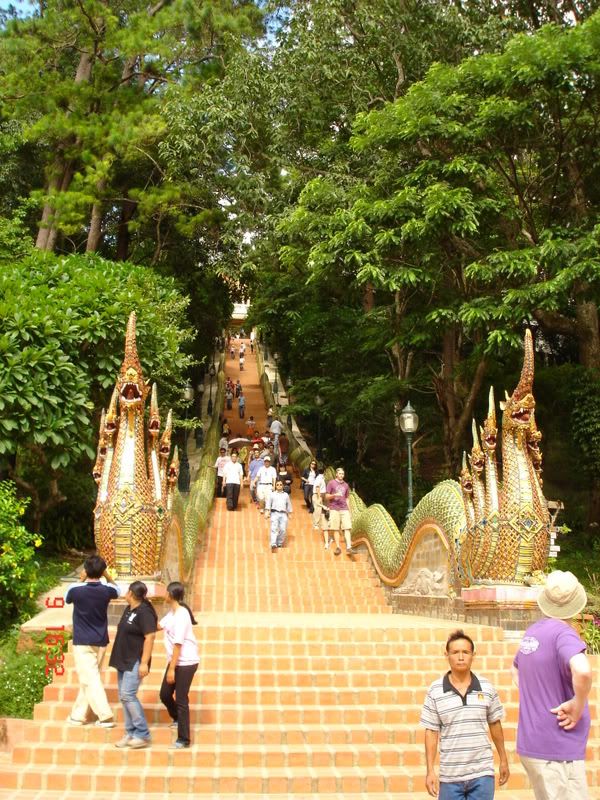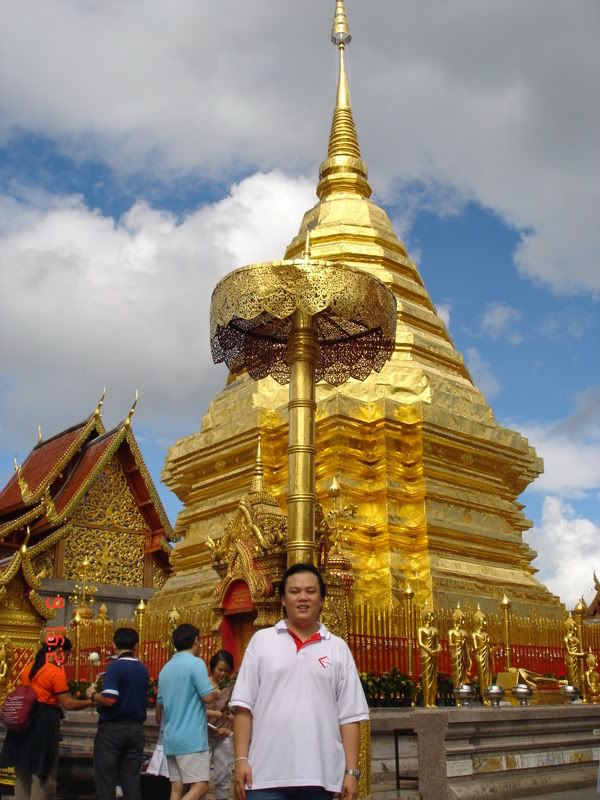 The majority of the temple are coated with gold, chants and prayers can be listened and I felt a great sense of peace in me, I felt so good, just like the time I went to be a monk for a month during my teenage. I made my prayer and was blessed by the master monk and were given a protection bangle which I am still wearing to date.
After the prayer, went back to hotel where we were treated a 2 hours session of

Traditional Thai Massage

sponsored by

LG

. Even if it is not sponsored, it is very much worth a massage as it only costs about

600baht (RM60)

for a 2 hours session making the Malaysian massage parlour operators no difference to Ah Long.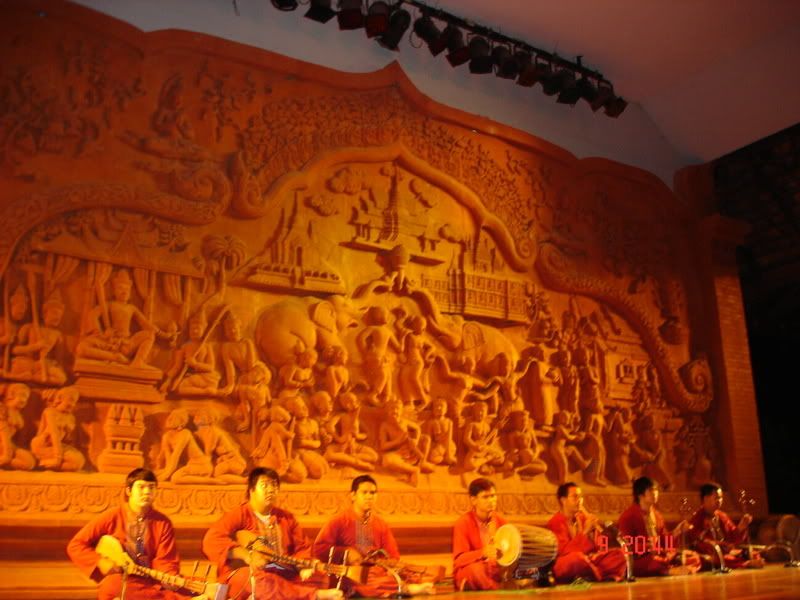 Dinner was great, we went to

Khantoke

dinner, it is the so-called Emperor Dinner, service is extremely good and trust me you are being treated like a King of Siam and accompanied with traditional cultural Thai shows & dances. Back to hotel and awaiting for the 2nd day.
Dead tired, was greeted by annoying morning call @ blardy fucking 5am. It is that fucking early because today we were leaving for

Chiangrai

(the city where the famous Andy Lau's movie, Protege was shot) which is about 3 hours away from Chiangmai. Along the torturing journey, we made a few stopovers, one was the

Cashew Nuts

factory, and now I know why these nuts cost so much compared to the other nuts in the family, it is its delicate steps of processing it to finished good.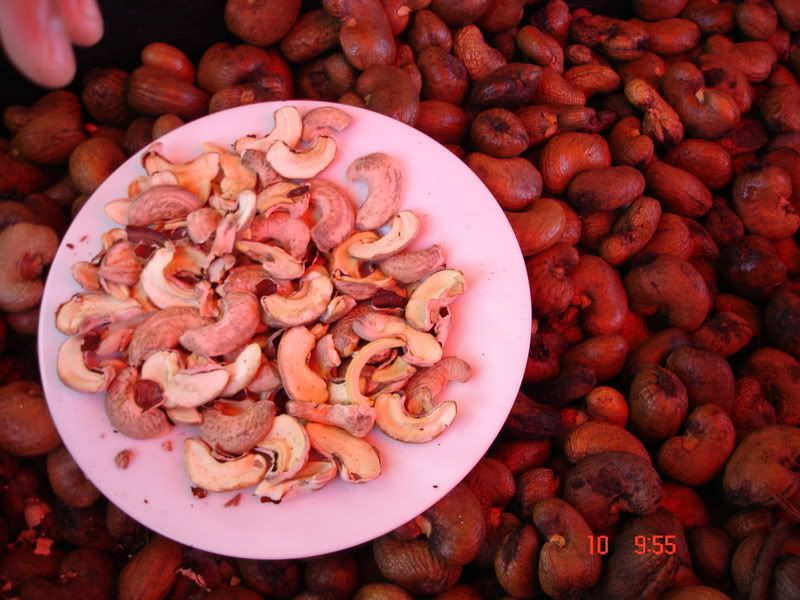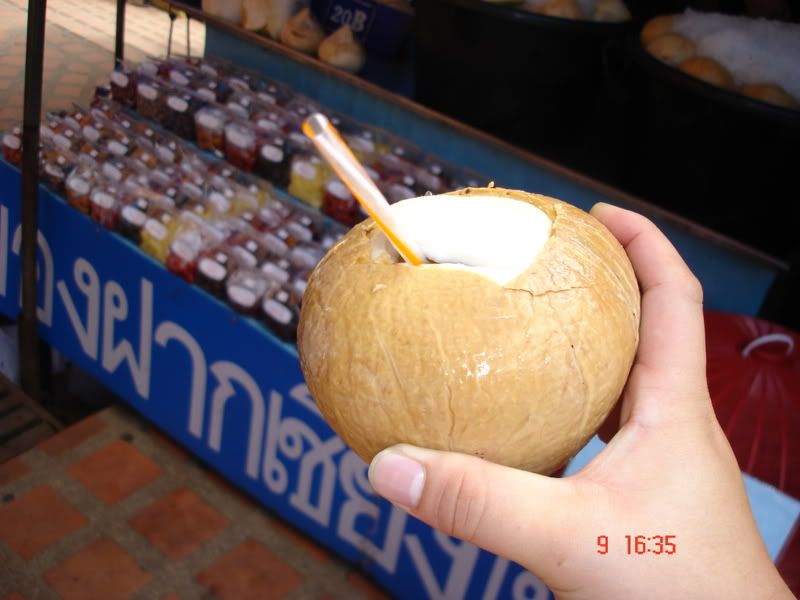 And not to forget too, when talk about Thailand, something not to be miss is the

Coconut

, Kenny Sia must be missing it so much :P
Finally arrived at our first attraction spot in Chiangrai,

The Rong Khun Temple

, the architectures & designs of this temple are inspired by

Mr. Chalermchai Kositpipat

. It is a combination of contemporary art with traditional Buddhist Artwork, this is one of the spot I highly recommend you guys to go at least once in your life time, it is definitely an eye opener how a modern Buddhist temple could be.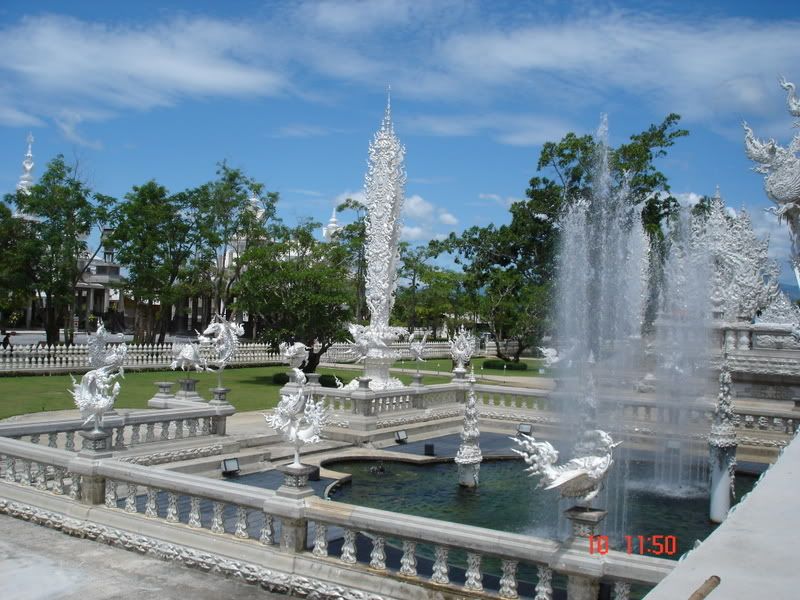 This whole building is in white and it is not fully constructed until the next 5-6 years to come. Do not understand why each and every visit to temple you will have this feeling of happiness & peace in your heart always. I felt that way, perhaps I practised the

Karma

way of life. I am a Karma believer.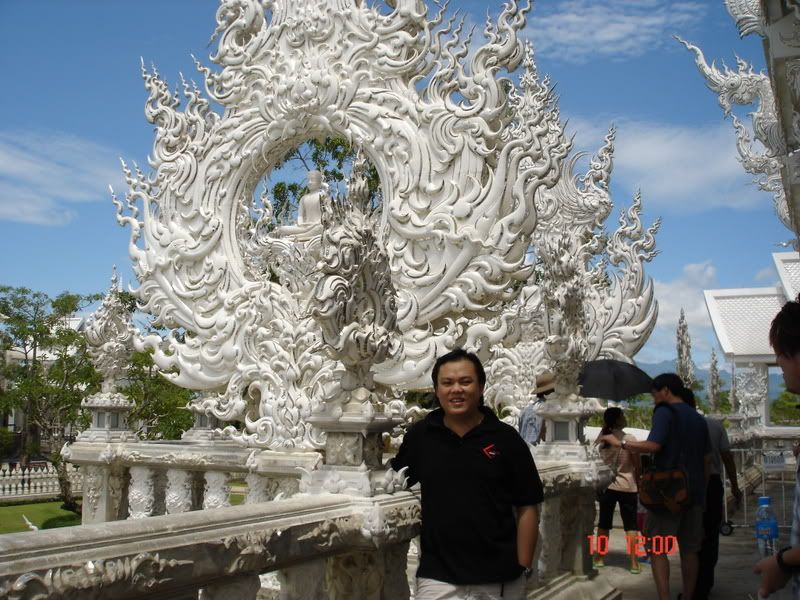 Getting really lazy d updating to this point, but I am telling myself I got to continue on before the ideas and inspirations to write bout my trip fades away. So after the temple thingy, we went to this area where you will love it if you wanna get high, so high, so high... :P
Golden triangle

, I think Andy Lau & Daniel Wu are very familiar with this place. In this trip, I indirectly stepped my foot to 2 other countries,

Myanmar

&

Laos

. Golden triangle famous for its poppy plant for drugs and marijuana production. But we tourists are forbidden to visit any of this places as it is already banned and illegal in those area.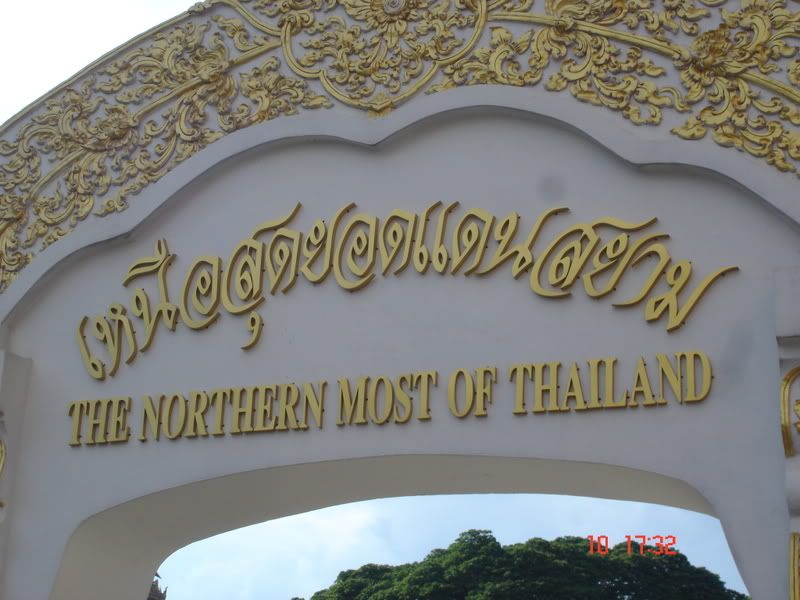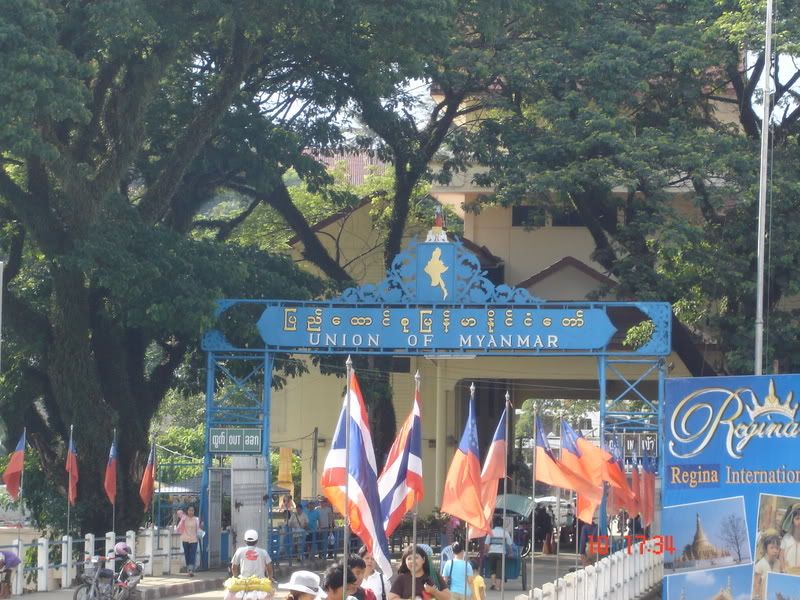 And the picture above is the entrance to Myanmar but it is funnily read as

"The Northern Most of Thailand"

, shouldn't it sounds nicer if it is called

"The Most Northern of Thailand"

? Had one of the best coffee ever, trust me it tastes even better than Starbucks. It is the

Doi Chiang

coffee bean, proud product of Chiangrai, and it doesn't cost much to enjoy one, merely 45baht for an Iced Latte.
Also visited the

Long Neck Village

, a hilltribe villages for tribes like

Akha

,

Lu Mien-Yao

,

Lahu

& The

Long Neck Karen

.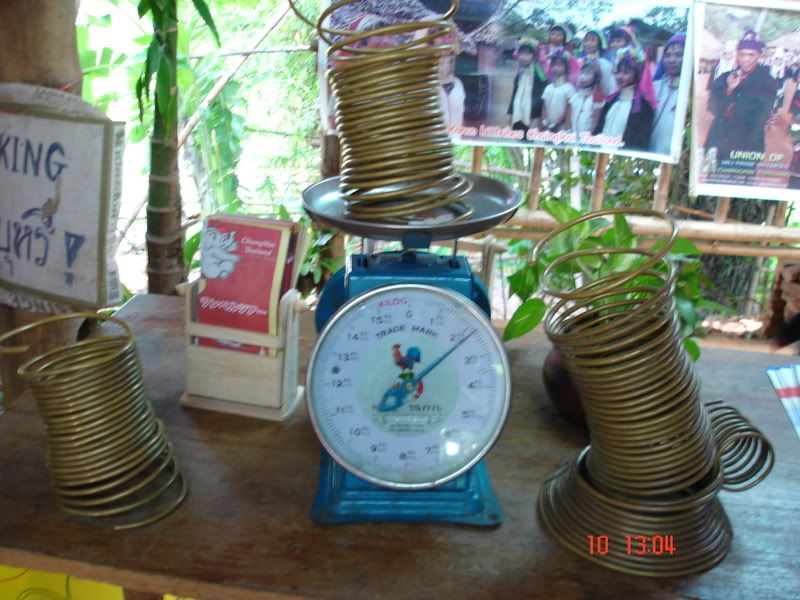 It is called long neck because the female in this tribe practices placing brass rings on their neck, and this freaking brass rings weighed about

4-5kg

each. Imagine carrying 4-5kg on your neck. According to tour guide, they cannot sleep like normal human do and to a certain age, this brass cannot be removed as it will be a danger to their life as there is no more support on the collarbone on the neck. The tribes mainly do a living with handcrafts, I even bought a scarf from them and it costs only 200baht.
And this is what greets you when you visit the hilltribe villages, it is so called protection statue to chase away evil spirits from the villages. Funny how the fuck these statues can scare away the evils?
Some of the other attractions, Chiangmai also famous for its elephant riding and orchird farm. Overall, it was a good but tiring trip. Even up to now, I have not been having a good rest. People in Thailand is so accomodating and always with both their hands together with their greetings. Food wise, I believe for us Asian Chinese, there shouldn't be any much of a problem, food is good especially if you like

"Moo"

(pork in Thai), throughout this trip, I had been having a MOO feast and funny shit is that when I came back, my colleagues said I lost weight. Am I?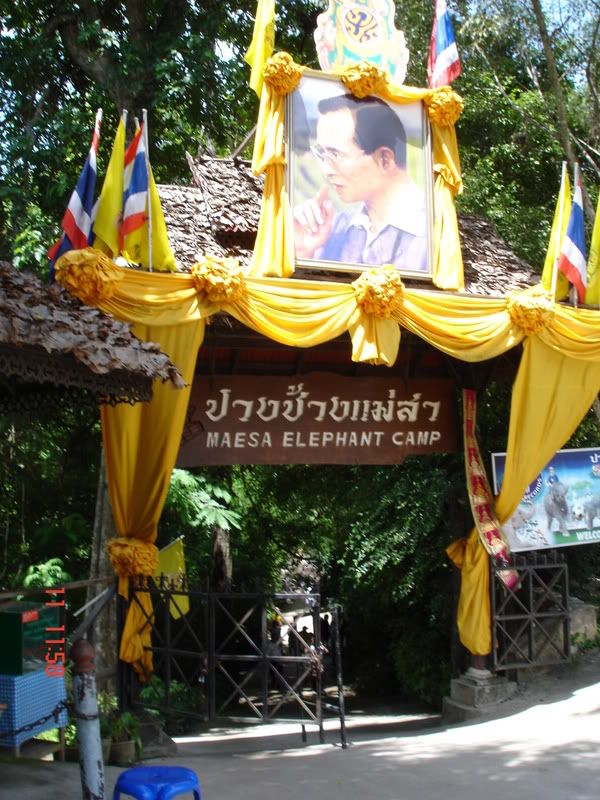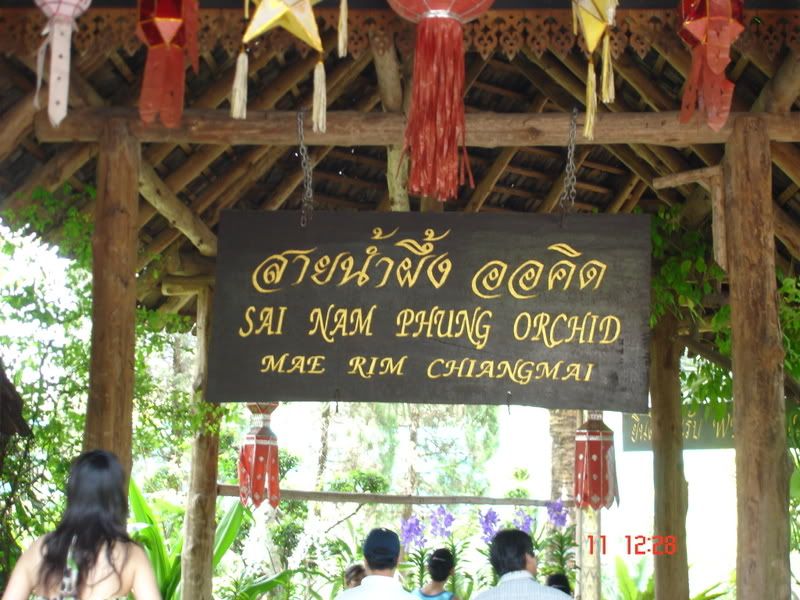 It had been a long winding post here, but I know it isn't informative as it is, do drop comments should you need certain informations about Thailand, I will be at my best to assist you my fellow readers.