Great time @ Friendster's last nite. Met up with blogging buddies, some big celebrity blogger and some great bunch of new friends.
Fellow blogging buddy,
Rames
, a very good photographer who surely know how to manipulate photographs, and not to mention too funny & nice guy who willing to chat up, sorry Rames, for not preparing the

red carpet

4 ya and girls out there, macho kan dia?
Cool bloggers that I met ~*~*~*~*
Jason aka
Smashpop
, great take on the plane jump mate... keep in touch k.
Jennifer aka
Jennihsurf
. One day must challenge her on Wii.
Fellow travelling buddy turn blogger. Check out Alan Tan's site
here
.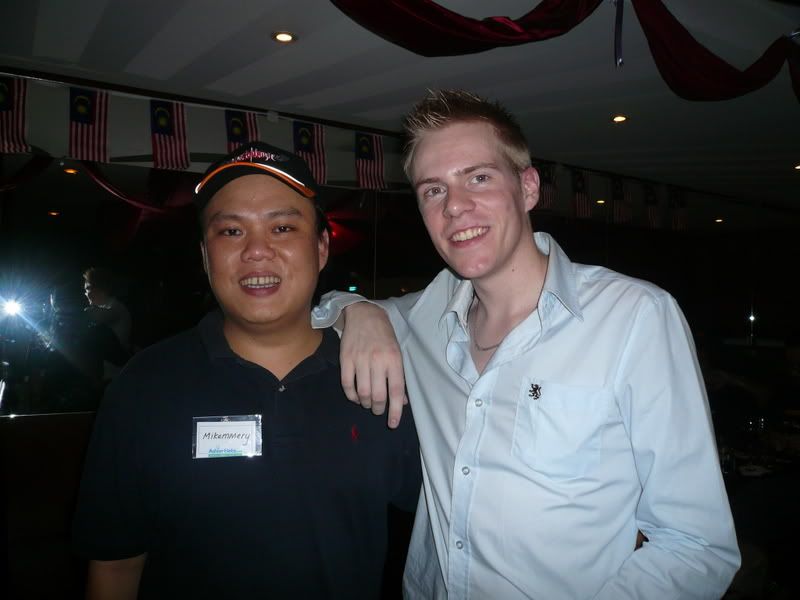 Fellow committee for the Malaysia Blogger's Day, all the way from Australia, an avid blogger himself, Timothy.
So what is all the buzz with
The New Community
itself? I was enlightened by Dodo about the community, was not all convinced until I meet the man himself, Christien New & his lovely wife Lavin. He took the trouble to explain to me the whole community about, about sharing and using the bloggosphere for charity purposes. Yeah, I am in, to do my part as a blogger to share my thoughts & my knowledge with the bunch. Met the whole bunch of New's knights & angels. Thanks Chris & Lavin.
Picture grabbed from WhiteTulips site. Yeah, I found you too. She is also one of Christien's angels. Nice meeting you girl, oh ya, don't forget about our trip to Melaka ya.