After much talked about
KennySia
's
LG Shine KE970 review
, many readers requested me to write a bit about
LG PRADA
. Basically the phone was designed by PRADA as in physically outlook of the phone using LG Mobile technology. It is a candy bar, EDGE phone with touch sensitive LCD screen. It is priced @

RM 2,999

and only available at PRADA, KLCC and selected LG Mobile dealers nationwide. It is that ridiculously priced because it is a
PRADA
, need I say more? It comes with a PRADA leather pouch, PRADA headset (not bluetooth), PRADA screen cleaner. All about PRADA... darn...

Ok inserting my
FU-YOH
sim onto the phone, in between my main line is still
Ananda
's but FU-YOH so good in their marketing that I cannot help to sing along "I Will Follow You". At least you see a LG wording there on the stickers, otherwise no one know it is LG technology :P
So this is how the candy looks like from the front, the 3"LCD occupies major part of the phone with 3 keys right at the bottom ---> the call, cancel, hangup keys. On the left side there is shortkey for VOLUME and on the right, shortkeys for UNLOCK, MP3 & CAMERA. What I like best and definitely get the head turning is the black theme making the phone looks like "I am so garang, so ganas...GRRRRR...." that kind of look.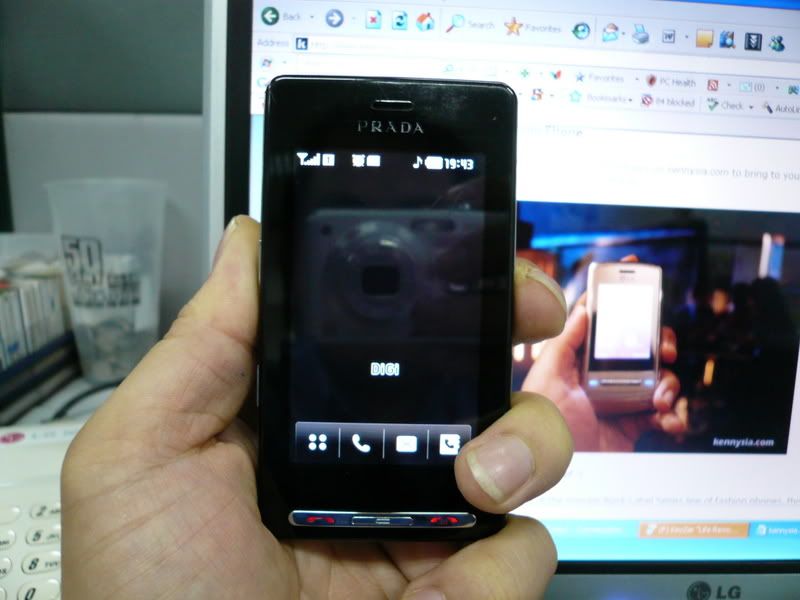 Saw the background? I am not trying to tumpang glamour on Kenny's site, just that this is my very first product review, so at least get the right sequence lah.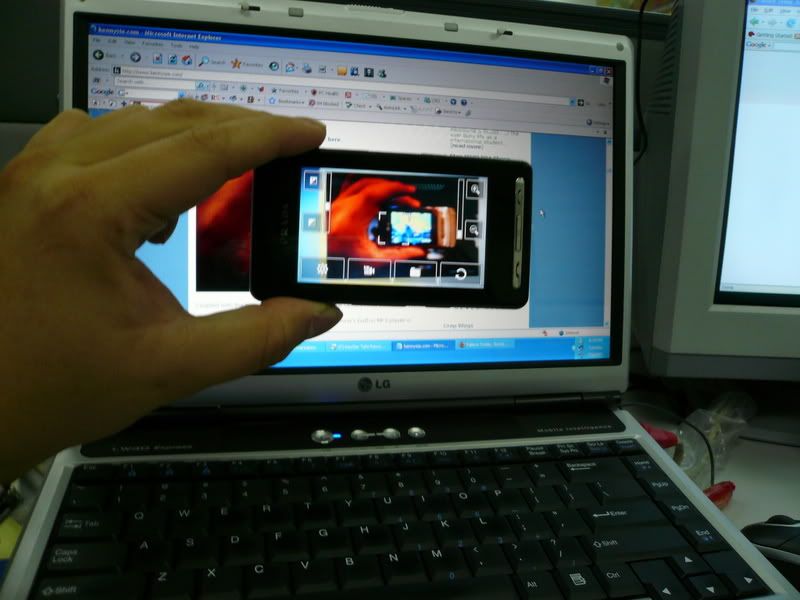 On camera mode, it has exactly the same specs like LG Shine, Schneider Kreuznach (pronounce as cruise-nak) 2.0MP lens, I am too lazy to take any snap shot, but I can assure you it is of above average quality. Still nothing beats digital camera or SLR ya.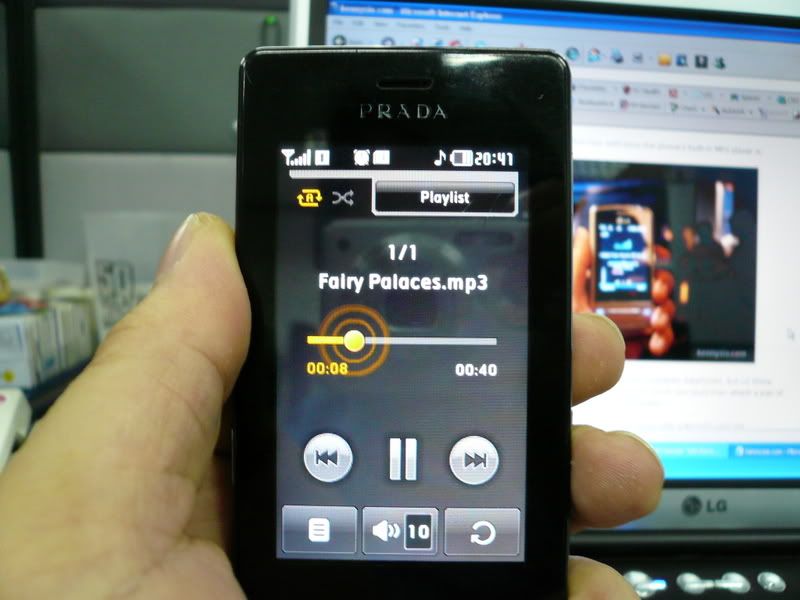 This is the MP3 player interface, and all visible buttons are touch sensitive. It comes with an internal memory of thrifty 8MB but good news is that it can support up to 2GB micro SD card, a handsome 150-200 MP3s.
Nothing much I can shout about the other specs of the phone, this is definitely targetting a very niche market and especially those fashion conscious and branded stuff seeker. If I got the money, I will keep one of this and post on eBay some 3 years from now. But I am not sure whether this is already sold out in Malaysia or not. Last I heard, it is selling pretty well, you know lah, how many rich & famous we got in Malaysia.
Oh in btw, this is not an advertorial ad, I am not being paid for it ya. It is just my sharing with fellow readers. For more detailed specs, check out the micro site of this
LG PRADA
phone ya.